Projects
ALEXBANK's shared value model addresses economic, social and environmental needs of the community through a 360-degrees approach by the design and implementation of social projects that generate shared value; economic, business and social. We believe that our corporate success is directly related to our social contributions and environmental commitments and we therefore incorporate social issues into core business strategies and develop long-term partnerships and build upon existing ones that help achieve this. Our community investments and activations fall under 3 pillars; Social Innovation, Education and Economic Empowerment. A forth main pillar revolves around ALEXBANK's employees, with the aim to build strong foundations of employee citizenship and foster their engagement in ALEXBANK's community development activities.
HEALTH AND WELL-BEING
Through this pillar, ALEXBANK plays an active role in incorporating community investments into its core business strategy. We ensure that innovation is coupled with different social purposes, including – but not limited to – education, waste management, economic empowerment, and inclusion. Accordingly, all initiatives falling under this pillar are designed to generate value to ALEXBANK and its partners, while achieving sustainable outcomes.
BANATI FOUNDATION EDUCATIONAL KITCHEN (2016 – 2017)
In partnership with the Sawiris Foundation for Social Development, ALEXBANK inaugurated and furnished Banati Foundation's educational kitchen to teach girls the principles of cooking and principles of teamwork. Today, the kitchen is considered one of the foundation's sources of income and hence, sustainability. It also opens job opportunities for the girls after graduating from the shelter.

ONE-DREAM (2018 – 2020)
One Dream's mission is to improve the living conditions of communities involved in waste recycling active in Mansheyet Nasser and Tora's informal areas. Over the period of two years, the project will target 35,000 individuals through heath care and education initiatives
Partners: The Sawiris Foundation for Social Development (SFSD), Star Care Egypt Foundation, Shorouk Misr Foundation and the Association for the Protection of the Environment (APE)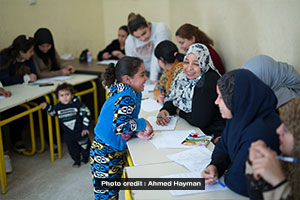 HEALTH AND HOPE OASIS EDUCATIONAL KITCHEN (2018 – Present)
Aiming to raise awareness, educate parents of cancer patients and provide balanced nutrition that supports the children's medical treatment, ALEXBANK is funding the first ever Educational Kitchen in the Health and Hope Oasis. The kitchen is planned to benefit 250 beneficiaries.

Partners: Friend of Children with Cancer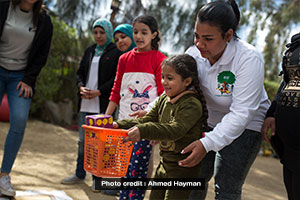 AL TAREEK (2019 – 2020)
Contributing to improving the standard of living and health care for 12,000 young men and women in Siwa, ALEXBANK joined forces with 3 esteemed partners in the field of development to support Siwa Community Development and Environment Protection Association. "Ebda3 men Masr" will also address the needs of Siwa labor market by providing different trainings in kilim, sewing, yogurt & jam manufacturing. This will help create new job opportunities for 480 youth and women in Siwa.

Partners: Sawiris Foundation for Social Development, Shorouk Misr, Ahram Beverages Company and Siwa Community Development and Environment Protection Association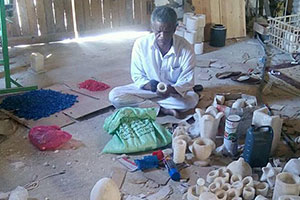 IMPROVING THE LIVING CONDITIONS OF CHILDREN IN STREET SITUATIONS (2017 – 2019)
Under a three-year long partnership with the Sawiris Foundation of Social Development, this project has been launched to contribute to better living standards for children in shelters and street situations through providing safe accommodations in shelters, nutrition, health care, counseling sessions, social activities, vocational training, education, infrastructure improvement and capacity building of NGOs working in the field. To date, the project has directly benefitted 25,000 children that suffered from street situations.
Partners: Banati and I The Egyptian Foundations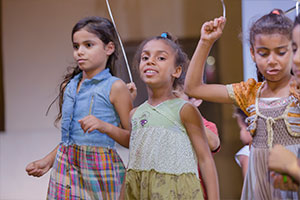 SAVING HEARTS WITH MAGDY YACOUB HEART FOUNDATION (2019 – 2022)
ALEXBANK and the Magdi Yacoub Heart Foundation (MYF) signed a three-year collaboration protocol dedicated to supporting the establishment of an echocardiography room at the Global Heart Center currently under construction in Cairo, Egypt. This is in support of fighting cardiovascular diseases which are considered the highest cause of death for non-communicable diseases, resulting in 1.5 million deaths annually across the African continent. The Cairo extension to the Global Heart Center in Aswan (AHC) will provide a three-fold increase of AHC's current capacity; the Echocardiography room will be able to serve 12,000 patients out of 80,000 patients accommodated annually by the center. The Global Heart Center accommodates the most complex cases from Egypt as well as the Middle East and Africa. It also trains healthcare professionals from the MENA region and Africa and further integrates research and innovation in the educational process of young healthcare professionals.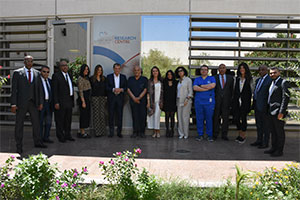 FINANCIAL INCLUSION
We remain fully committed to promoting financial inclusion among Egyptians from marginalized communities, recognizing that this can be an accelerator for their individual and the country's economic growth. To address financial inclusion, which tops national priorities, we are constantly developing new products leveraging digital technologies also applicable to responsible lending and micro lending solutions. We also realize the role of financial literacy and education as a gateway for inclusion.
TAMKEEN
Tamkeen is a holistic economic empowerment project that aims at promoting women and youth employability through skill enhancement trainings and financial education for self-employment. The project is complemented with a tailor-made financial product also named "Tamkeen". In 2018, the first phase of the training was completed in Assiut for 488 selected recipients through civil associations and grass root NGOs. Eligible beneficiaries received microloans for livestock and other business activities at favorable conditions that sets Tamkeen apart from traditional microfinance products.

Partners: Sawiris Foundation for Social Development and International Labor Organization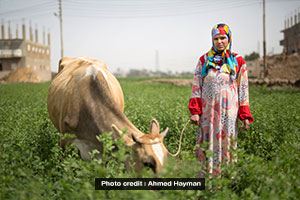 HADY BADY FINANCIAL LITERACY GAME
Financially aware children will turn out to be financially literate citizens. Out of that belief, ALEXBANK developed "Hady Bady" – the Arabic analogous for the children's rhyme "Eeny, meeny, miny, moe"- that introduces children to making well informed decisions to Spend, Save and Donate. The game was designed by a young team of graphic designers who were still in university at the time. "Hady Bady" is ALEXBANK's first financial literacy game tailored for Egyptian children with the purpose of enshrining principles of prioritizing financial needs in balance with supporting others with less fortunate financial circumstances.

Partners: Mirna Noaman, Graphic Designer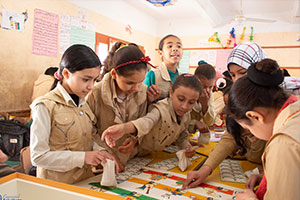 WOMEN FINANCIAL INLCUSION
ALEXBANK's strategic partnership with the National Council of Women is taking shape through a national program targeting the financial inclusion of one million women. ALEXBANK is developing a solution together with Vodafone to digitalize saving groups. The first phase will target 150 women in mature saving groups, onboard and train them on the new solution.

Partners: Central Bank of Egypt, National Council of Women, CARE and Vodafone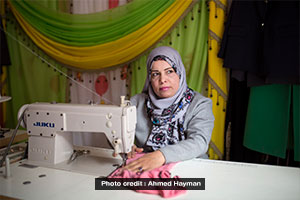 Physical Accessibility & Inclusion
In line with the year 2018 being declared "Year of Persons with Disabilities", ALEXBANK partnered up with "Helm" Consulting to conduct an assessment on the physical accessibility situation of our branches. In 2018, five branches have been made physically accessible. A larger number of accessible branches are underway in 2019. In addition, front-liners receive disability equality trainings to in order to change attitudes towards the greater inclusion of people in mainstream operations, services and activities.

Partners: Helm Consulting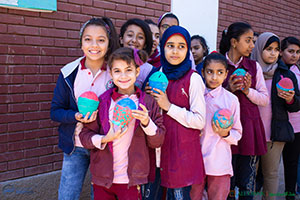 ECONOMIC EMPOWERMENT
Building on an integrated development approach, ALEXBANK, with its partners, continuously strives for inclusive economic growth. By supporting key initiatives, enabling services and capacity-building, and directing donations to communities in need, the Bank fully assists in economic empowerment in line with its shared value strategy.
DEVELOPING 10 VILLAGES IN EDFU CENTER, ASWAN (2017 – Present)
Building on the successful cooperation of ALEXBANK with Zakat Foundation from 2015 to 2017 to develop 5 ultra-poor villages in Edfu Center Aswan, a new partnership was established with Kheir wa Baraka NGO to solidify our intervention in favor of these marginalized communities in addition to 5 more villages. The integrated development approach covers a range of development interventions and assistance to 50 ultra-poor families through basic, preventive and curative healthcare services, skill-development workshops, in-kind donations, and micro-projects assistance with the objective of raining the villagers' independence. To date, more than 50 families living in these five villages have profited and 67 microloans provisioned.
Partners: Kheir Wa Baraka NGO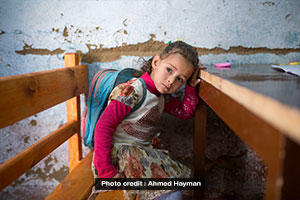 WOMEN EDUCATION AND ECONOMIC EMPOWERMENT TO COMBAT TRAFFICKING AND EARLY MARRIAGE (2018 – 2019)
Aiming to combat the phenomenon of early marriage that is widely spread in West Nile villages located in Giza, the project targets 120 women through improving the living conditions, social and psychological improvements, building the capacity of 5 NGOs and their staff, introducing awareness campaigns to the target communities and helping target beneficiaries establish their own micro-projects as a sustainable source of income.

Partners: Appropriate Communication Techniques for Development Center (ACT)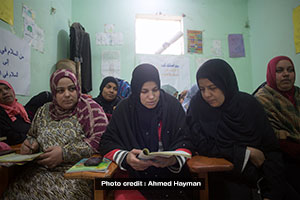 FROM FARM TO FORK (2017 – 2018)
This project aims to support 4,000 women living in rural areas in scaling up their micro-business activities. The focus lies on processing tomatoes into high quality consumer products, with a pilot phase completed in 2018.
Partners: Knowledge Co. for Sustainable Development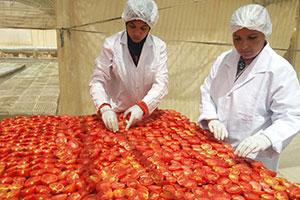 EDUCATION
In addition to providing practical opportunities for economic empowerment, ALEXBANK and its partners seek to improve quality access to inclusive education, equipping local communities with the tools to innovative development solutions. Our initiatives have thus far enabled the introduction of quality education to less fortunate communities, teacher workshops, technical trainings for professionals, and infrastructure upgrading.
TRANSFORMATIONAL TEACHING PROGRAM (2016 – 2019)
With the objective of designing and delivering professional development programs for teachers working in governmental schools, the program offers teachers practical training on best practices in dealing with children in the classroom. To date, the project has directly impacted the development of 3,500 teachers and indirectly 26,200 students.

Partners: Educate Me and MetLife Foundation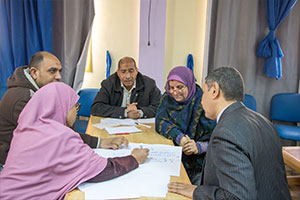 COTTON FOR LIFE (C4L 2015 – 2019)
Aiming to revive Egypt's "White Gold", long-staple cotton. In a partnership with Filmar Nile Textiles, ALEXBANK embarked on a long journey that tackles all challenges faced by famers, agriculture students and producers of cotton-made garments. The project has benefitted more than 1300 students, 100 teachers, 100 technicians, 40 farmers and 60 designers.
Partners: Filmar Nile Textiles under the auspices of the Ministries of Agriculture and Trade & Industry
EASTERN SAFT PREPARATORY SCHOOL TRANSFORMATION (2015 – 2017)
ALEXBANK embarked on a transformational program to develop both infrastructural as well as educational and human development programs in Saft el Sharkeya school in Beni Swief – Upper Egypt. The project outcomes included increasing the capacity of the school by 35%, the space of the school playground by 40%, transforming it to a mixed school (2 genders), including students with disabilities and ensuring accessibility of the building.
Partners: Takatof Association for Development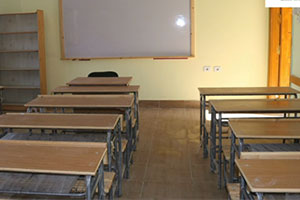 HANDICRAFTS AND TAWASOL PROJECT EMPOWERS YOUNG ARTISTS OF ESTABL ANTAR
Under ALEXBANK's CSR and Sustainable Development Office flagship initiative "Ebda3 Men Masr", the Bank signed a two-year partnership with Star Care Egypt to support Tawasol for Developing Instabl Antar NGO for the inauguration of the new Tawasol community school. The school, situated in Ezzbet Khairallah, is designed to welcome over 500 students aged from 8-16 and to provide a safe and nurturing hub for children's education and health assistance. Through "Handicrafts and Tawasol", ALEXBANK and Star Care Egypt are funding one floor of the new community school, providing workshops spaces where students will be learning handicrafts and artisanal skills.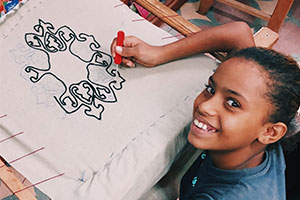 EBDA3 MEN MASR (2016 - present)
"Ebda3 men Masr" is our flagship CSR initiative. Launched in 2016 with an aim to support the Egyptian Creative Economy and save diminishing national crafts, "Ebda3 men Masr" has supported more than 5,000 artisans across all Egyptian governorates to date. 90% of our beneficiaries are women, while 60% are youth. The initiative leverages on more than 25 partnerships and collaborations between NGOs, governmental bodies, private sector entities, and individual actors. "Ebda3 men Masr" key partnerships are with the Egyptian Ministry of Social Solidarity, Fair Trade Egypt, the Egypt Network for Integrated Development (ENID), Yadaweya and Tunis Village in Fayoum.
PRESERVING HERITAGE AND RESPONSIBLE GIFTS PROCUREMENT (2016 – PRESENT)
Since 2016, it has been customary for the Bank to manage and design annual and seasonal gifts to its partners and important clients with the ultimate goal of empowering local communities and talents through a laser-focused economic development and value creation approach. With a new concept and implementing partners every year, our corporate giveaways tell the story of Egypt's artisans and the heritage they guard with their hands and hearts. The total number of individuals whose lives have been positively affected by our having our corporate giveaways made by them has reached more than 2,000, of which 75% are women.
FAIR TRADE EMPOWERMENT AND PROMOTION IN EGYPT (2016 – 2018)
Launched in 2016 as the first strategic partnership under Ebda3 men Masr, and over the course of 2 years, the project has impacted a total of 3,600 artisans in clusters across eleven governorates, through capacity building, in addition to providing them with marketing and sales opportunities in collaboration with ALEXBANK.

Partner: Fair Trade Egypt Association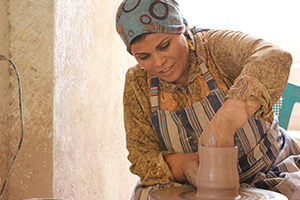 CLUSTER FORMATION FOR HANDICRAFTS AND ENTREPRENEURSHIP DEVELOPMENT IN UPPER EGYPT (2016 – 2018)
After three years of addressing critical issues like reviving traditional handicrafts, improving socioeconomic conditions of marginalized women and youth of Upper Egypt, and breaking the stereotype of male-dominated crafts, "Ebda3 men Masr" in collaboration with the Egyptian Network for Integrated Development (ENID) provided 1,200 women with tailored crafts-based training.

Partner: Egyptian Network for Integrated Development (ENID)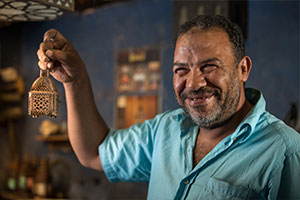 DEVELOPING THE HANDICRAFTS SECTOR IN PARTNERSHIP WITH YADAWEYA (2017 - 2019)
One of "Ebda3 men Masr" most important milestones is our partnership with Yadaweya, which has been significantly impacting the lives of more than 800 craftsmen and their families across six governorates since 2017. The partnership not only revived and developed almost extinct craftsmanship like Telli and Siwa salt carving, but it also provided sales opportunities for its artisans, created a comprehensive map of handicrafts in Egypt and a children's book that tells the story of the Egyptian handicrafts, their heritage and cultural ties to the numerous communities for the first time in Egypt.

Partner: Yadaweya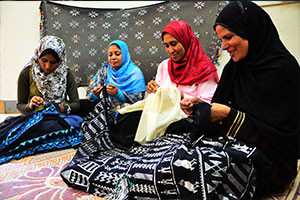 PROMOTING TUNIS VILLAGE ON EGYPT'S MAP FOR HANDICRAFTS AND TOURISM (2015 – PRESENT)
Since 2015, ALEXBANK has been supporting the Tunis Village Annual Pottery Festival in terms of organization and marketing. The festival has so far helped improve the living conditions of all Tunis Village potters and craftsmen, in addition to nearby villages where everyone displays their products for direct sales opportunities.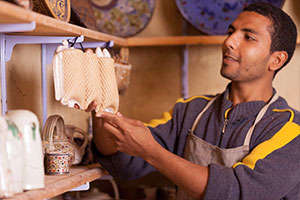 TUNIS VILLAGE BEAUTIFICATION ( 2017- 2018)
Starting 2017, ALEXBANK in collaboration with Alwan Foundation launched a beautification initiative covering more 1500 square meters with graffiti reflecting the culture of the villages on its wall streets. The project was made in close collaboration with the villagers though workshops and community engagement activities.
Partners: Fayoum Governorate, Tunis Village Potters Association and Alwan Foundation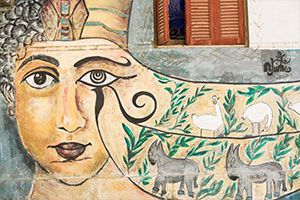 ABO TEEG CARPETS UNIT (2018 – 2019)
A handmade carpet production facility and training center, projected to produce high-quality carpets for the export market. 150 students will be trained and equipped with skills that will enable them to directly contribute to improving the local carpet industry, with the prospect of employment in the facility.
Partners: Sawiris Foundation for Social Development (SFSD), Egyptian Chamber of Handicrafts, Egyptian Export Council for Handicrafts, Ministry of Trade and Industry (through The Micro, Small and Medium Enterprises Development Agency MSMEDA)Partners: Fayoum Governorate, Tunis Village Potters Association and Alwan Foundation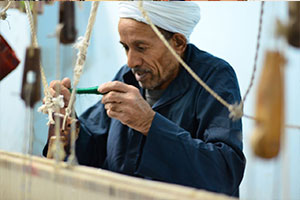 WORLD FAIR TRADE CERTIFICATIONS (2018 – 2019)
In 2017, ALEXBANK launched the first World Fair Trade Certification Program in Egypt to support 22 active members of the creative economy. Eleven of these craftsmen received provisionary certificates by 2018, opening up the international market for their merchandise.
Partners: Egyptian Export Council of Handicrafts and the World Fair Trade OrganizationPartners: Fayoum Governorate, Tunis Village Potters Association and Alwan Foundation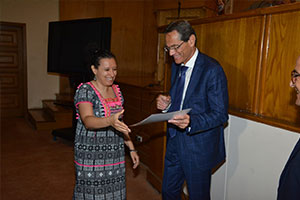 QESETNA FI HERFETNA (2018 – 2022)
ALEXBANK and the Sawiris Foundation for Social Development (SFSD) launched "Qesetna Fi Herfetna" aiming to integrate persons with disabilities into "Ebda3 men Masr" by providing them with a quality handicrafts training program. The project is planned to build the capacity of more than 500 young men and women with motor, visual, audio or mental disabilities in four governorates and over the course of four years. To achieve real inclusion, target beneficiaries will join their non-disabled peers in trainings to psychologically prepare all participants for dealing with disabilities in the labor market as well as raise awareness comprehensive integration among their families.
Partners: Sawiris Foundation for Social Development, Caritas Egypt, Regional Association for development and Enterprises (RADE) Foundation and Yadaweya AssociationPartners: Fayoum Governorate, Tunis Village Potters Association and Alwan Foundation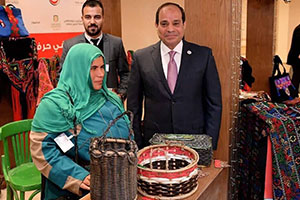 EMM Microloan (2019 – Present)
As part of Ebda3 men Masr (EMM), ALEXBANK's flagship initiative and as an extension of ALEXBANK's financial inclusion activities, the Bank designed a microloan product for Egyptian handcrafters in order to further empower them. With competitive interest rates and simplified payments as well as a micro savings account, a debit card and a mobile wallet, the EMM microloan is reflected in ALEXBANK's efforts in creating a microloan tailored specifically for handcrafters' needs and the nature of the Egyptian handicrafts sector. In addition to the financial package, a bouquet of customized non-financial services was designed including: legal advisory services, business skills training sessions, digital marketing training and consulting services, an opportunity to sell and market products on an e-commerce platform and another opportunity to sell products in a physical store.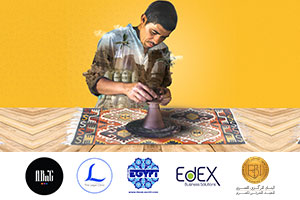 Events
In constant keenness to promote social and sustainable welfare in Egypt, as well as the concept of Creating Shared Value, ALEXBANK takes a leading role in hosting and organizing national and regional events to create synergies within our community.
L'Artigiano in Fiera (2018 – Present)
In 2018, we embarked on our first international experience, supporting the Egyptian pavilion of 26 exhibitors selling different crafts in one of the biggest and most known trade fairs in Europe: L'Artigiano in Fiera in Milan, Italy. For the second year in a row, ALEXBANK supported L'Artigiano in Fiera exhibition taking place from November 30th until December 8th 2019 . The world-renowned exhibition is a celebration of the art being produced around the world and affords artists with a unique opportunity to showcase their work on an international scale. This year, the exhibition welcomed 1.3 million visitors to explore the works of artists from over 100 countries. 50 Egyptian artists were selected to take part in L'Artigiano In Fiera with designated Egyptian pavilion of 500 square meters.
The opening ceremony for the entire exhibition took place inside the Egyptian pavilion. Notably present, H.E. Egypt's Ambassador in Italy Hisham Badr, Ehab Abou Seree the General Consul of Milan, Former Head of Intesa Sanpaolo's International Subsidiary Bank's Division's Paola Angeletti. During the 9 days of the exhibition, Egyptian artisans made a revenue equivalent to over 1.7 million Egyptian Pounds.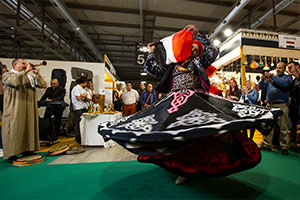 Diarna Exhibition 2019/2020
For the second year in a row, ALEXBANK was the strategic partner of the Ministry of Social Solidarity for Diarna Exhibition. Diarna took place between Dec 27 and January 26; the Guests of Honor were Fayoum Governorate and People with Disabilities. The exhibition featured 350 artisans from all across Egypt and recorded sales of more than nine million Egyptian pounds.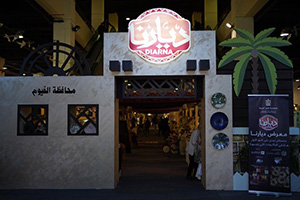 Qesestna fi Herfetna Christmas Bazaar
ALEXBANK and the Sawiris Foundation for Social Development (SFSD) launched "Qesetna Fi Herfetna" aiming to integrate persons with disabilities into "Ebda3 men Masr" by providing them with a quality handicrafts training program. The project is planned to build the capacity of more than 500 young men and women with motor, visual, audio or mental disabilities in four governorates and over the course of four years. To achieve real inclusion, target beneficiaries will join their non-disabled peers in trainings to psychologically prepare all participants for dealing with disabilities in the labor market as well as raise awareness comprehensive integration among their families.

On December 13th and 14th 2019, Qesetna Fi Herfetna Had a Christmas Bazaar aiming at providing Clients with quality handmade products made by PwDs to support their economic inclusion as well as celebrate the festive time that is Christmas. There was a total of 40 Exhibitors from all over Egypt promoting their talents and skills with increased exposure, marketing and sales opportunities, in addition to different activations and one khayameya workshop suited for persons with disabilities and beyond.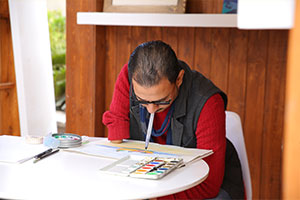 GLOBAL POLICY FORUM 2017: ALLIANCE FOR FINANCIAL INCLUSION (SEPTEMBER 13th AND 14th)
ALEXBANK participated in the 9th Global Policy Forum: Alliance for Financial Inclusion, that took place for the first time in Sharm Elsheikh, Egypt. Showcasing a true example of Financial Inclusion, an Ebda3 men Masr booth displayed unique handcrafted products for sale to conference attendees from 59 countries around the world. This is in addition to Dante Campioni's, ALEXBANK CEO, participation in a panel about "Financial Inclusion and Economic Empowerment for Women" with Mona Thu AlFaqar, Egyptian Lawyer and Human Rights Activist and Mrs. Lobna Helal, Deputy Governor, Central Bank of Egypt.Partners: Fayoum Governorate, Tunis Village Potters Association and Alwan FoundationPartners: Takatof Association for Development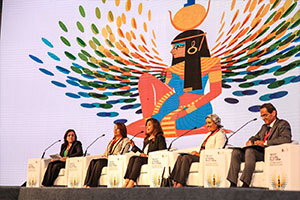 EBDA3 MEN MASR LOCAL AND INTERNATIONAL EXHIBITIONS FOR HANDCRAFTS
Our work with the craftsmen and women in Egypt has kept us aware of the lack of accessible opportunities to participate in exhibitions despite the high quality and uniqueness of their products. Over the past 4 years, we have helped hundreds of members of the creative economy sector with free/subsidized spaces in exhibitions resulting in more than 20 million net sales to beneficiaries.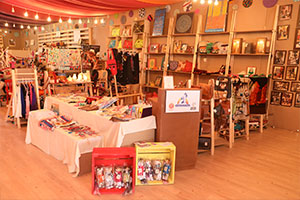 ANNUAL HEROES IFTAR FOR LESS FORTUNATE CHILDREN
Celebrating an impactful partnership, ALEXBANK and the Sawiris Foundation for Social Development have undertaken an annual tradition since 2017 to organize an Annual Iftar for Marginalized Children (children with disabilities and at street condition) to draw a smiles on the faces as many children as possible. Also, usually, the event announces for a new partnership supporting the same cause.Partners: Fayoum Governorate, Tunis Village Potters Association and Alwan Foundation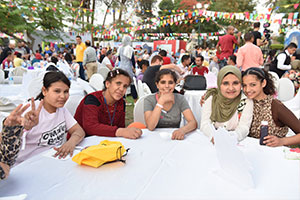 THE CSR ANNUAL CONFERENCE (2016 – PRESENT)
In collaboration with the Federation of, The Sawiris Found Eation for Social Development and Professional Development Foundation (PDF), ALEXBANK co-organizes the biggest and most impactful CSR conference in Egypt where 2,000 entrepreneurs and representatives of business organizations, multinationals, SMEs, universities, research centers and NGOs attend the two-day conference yearly. In order to also provide our "Ebda3 men Masr" partners with marketing and direct sales opportunities, we organize an EMM bazaar on the sidelines of the conference.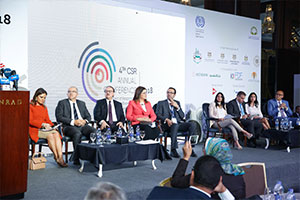 INTERNATIONAL AND NATIONAL FINANCIAL INCLUSION EVENTS (2017-PRESENT)
ALEXBANK annually participates in the Arab Financial Inclusion Week in line with the CBE's directions and the "World Savings Day" in line with Intesa Sanpaolo Group. On the occasion of the World Savings Day 2018, ALEXBANK introduced its first financial literacy game for children named "Hady Bady". The game was rolled out nationally on the occasion of the Arab Financial Inclusion Activities reaching 7,500 students in public primary education schools in 7 governorates.