YOUTH Saving Account
W7oosh el-Ta7weesh ... Save ... Spend ... Enjoy
YOUTH Saving Account Benefits
Competitive Interest Rates
Competitive monthly interest payouts
Find Us Everywhere
Nation-wide coverage of branches and ATMs
Low Entry Barrier
Account can be opened starting from only EGP 250
The account for YOUTH from ALEXBANK offers you a bundle of banking products and unlimited number of offers and discounts matching your lifestyle. Once you subscribe you will get a coupoun worth EGP 100 from Cook Door as a gift.

Terms and conditions apply
Interest rates changed on some tiers starting 01/04/2020

Account Features
Minimum Opening Amount  

EGP 250

Minimum Amount to Grant Interest 

EGP 250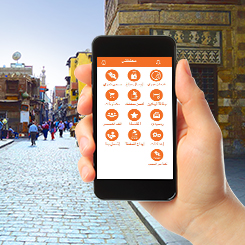 Do you want to pay your bills in minutes?
With the Ma7fazty app you can turn your mobile phone into a wallet, pay your bills, transfer money to your friends & family and more
Save
Save with your YOUTH saving account that offers you competitive monthly interest rate, in addition to free monthly E-Vouchers when your account balance exceeds EGP 5,000 from Cook Door
Free account opening fees
Competitive monthly interest* rate
Minimal opening balance EGP 250
Minimal monthly account maintenance fees
*Interest is calculated on minimum balance and credited to your account on the first business day of the following month
Spend
With your YOUTH debit card, collect points every time you purchase and redeem them easily
Collect ALEXPOINTS every time you purchase with ALEXBANK YOUTH card
Choose between Liverpool FC Titanium and YOUTH debit cards
Ability to issue credit card*
* Available for customers starting 21 years old

Travel
Discover the world, pay for all your purchases easily with your card and get 15% discount on travel packages with Gazef.
Withdraw from your account anywhere in the world and purchase/pay anywhere you are through the point of sale (POS)
Call us anytime while traveling from anywhere in the world on (+202 19033) our contact center to activate your card, check your account balance or to report any theft or loss of your debit card
Enjoy
Exclusive discounts when you purchase with your YOUTH debit card in more than 50 brands with ALEXDISCOUNTS.
Your YOUTH debit card is your gateway to an exclusive world of discounts
All you need is to purchase with your YOUTH debit card in any of our discounts' partners across Egypt and you will enjoy instant discounts
To know more visit: ALEXDISCOUNTS

YOUTH Debit Cards
Choose between:
YOUTH Liverpool FC Titanium Debit Card:
Get the chance to travel to Liverpool every month and watch your favorite football club at their legendary home stadium "Anfield" in ACTION, or you can get gifts from "Liverpool Club Store"
YOUTH Debit Card:
The YOUTH Debit Card from ALEXBANK with its fun and colorful look reflects your personality and is your gateway to a world of banking products and exclusive discounts

Enjoy our services
Conduct all your banking transactions through YOUTH dedicated branches.
Internet Banking service, view all your daily transactions, deposits, withdrawals and pay your bills with Fawry anytime and anywhere
With Ma7fazty application, top up your mobile, pay your bills and book tickets all through your mobile
Every time you pay/purchase with your card you will receive SMS alerts on your mobile phone with all your transaction details
Contact us anytime on 19033 our contact center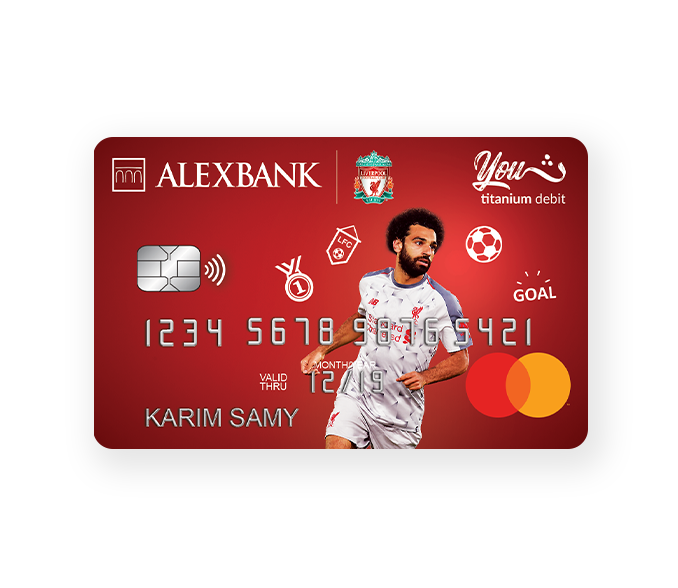 YOUTH Liverpool FC Titanium Debit Card
Daily local / international purchase limit

EGP 75,000

Monthly international / local purchase limit

No Maximum

Daily local withdrawal limit

EGP 10,000

Monthly international withdrawal limit

EGP 50,000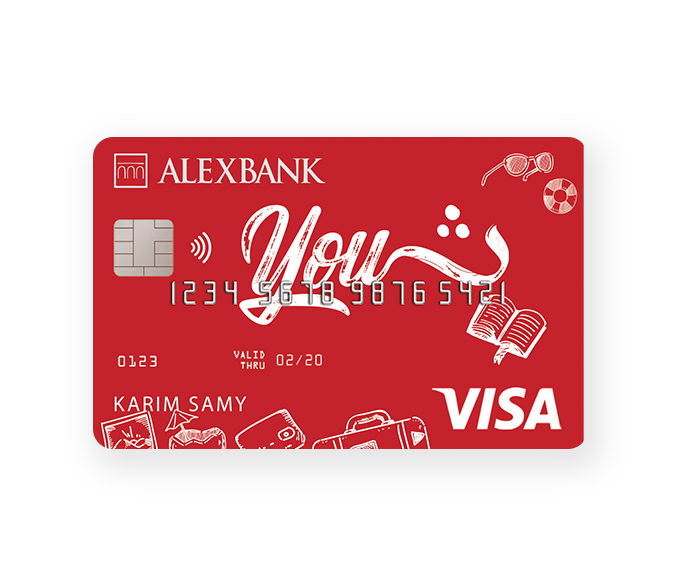 YOUTH Debit Card
Daily local / international purchase limit

EGP 75,000

Monthly international / local purchase limit

No Maximum

Daily local withdrawal limit

EGP 10,000

Monthly international withdrawal limit

EGP 50,000
Download ALEXBANK Mobile Banking Application and enjoy exceptional features: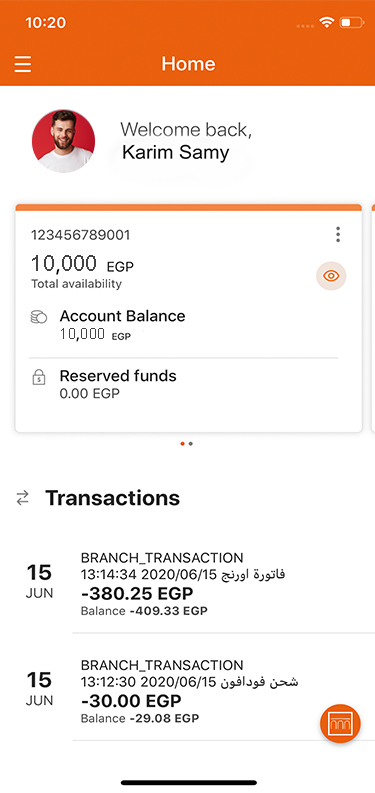 Download ALEXBANK Mobile Banking Application and enjoy exceptional features:
Easy login with Touch ID/Fingerprint & fast transfers to your own accounts or to other accounts inside Egypt with the O-Key link
Monitor all your banking transactions (accounts, credit cards, loans, time deposits and certificates of deposits)
View and settle your credit card dues, and execute your bill payments through Fawry services
Send your account number information including IBAN from your mobile via WhatsApp, SMS or email
Locate your nearest ALEXBANK Branch or ATM across the country and view the latest FX rates with our currency calculator