Mobile Application & Internet Banking
Take ALEXBANK with you anywhere you go with our New Mobile Banking Application
ALEXBANK has never been closer…
Access your ALEXBANK accounts easily and monitor your transactions instantly wherever you are inside or outside the country through your Mobile Banking application (for iOS and Android users) or Internet Banking in both Arabic and English, and you can also instantly and securely book your Certificate of Deposit or Time Deposit online without the need to visit the branch.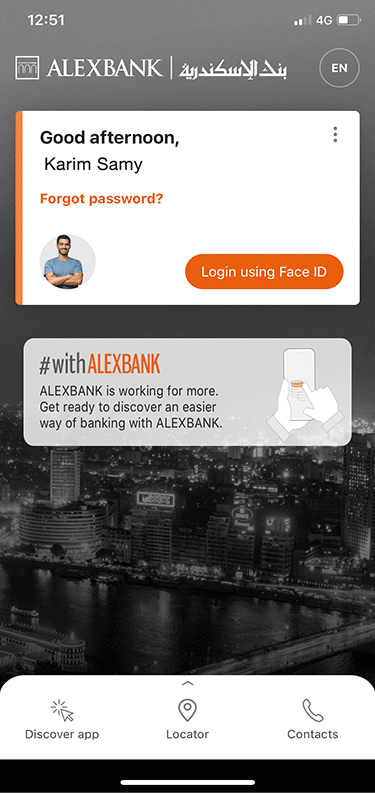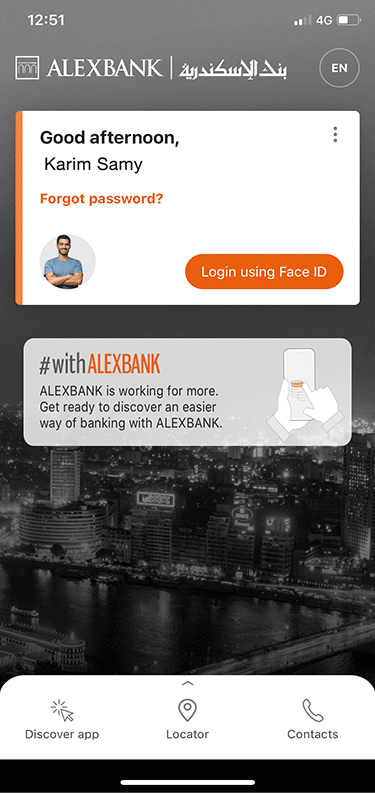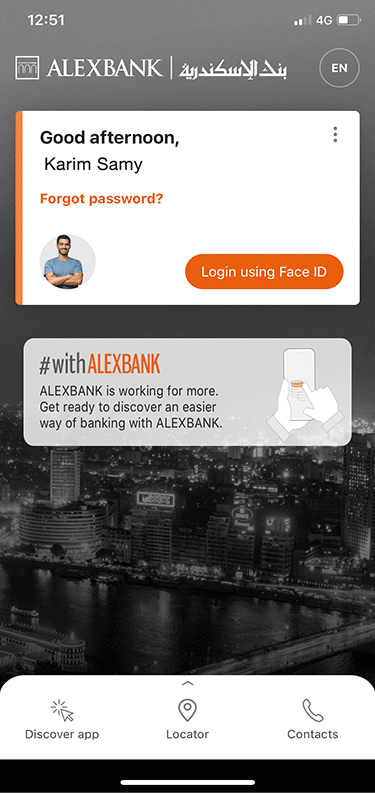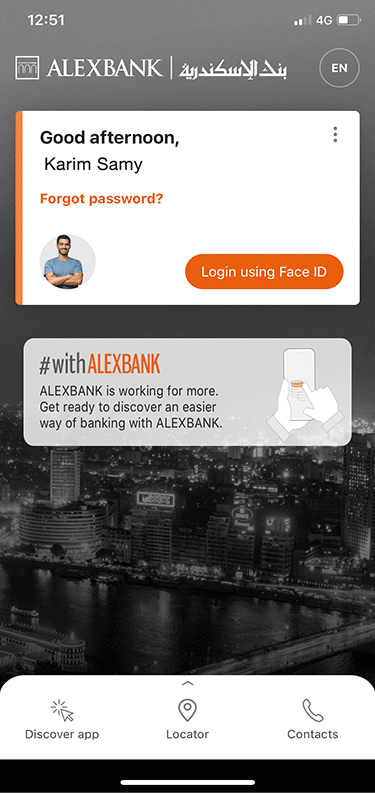 Register online & login easily to your Mobile Banking application with Fingerprint/Touch ID or Face ID* (for iOS users only)

Instant & secure Booking of Deposits through the Mobile Banking application or internet banking without having to visit the branch

Easy transfers to your accounts or other accounts with the O-Key link, bill payments & transfers to any electronic wallet in Egypt
Self-reactivation of your Mobile or O-KEY application through the application without the need to call the Contact Center

Monitor your products & transactions
Everything you need to know in one place
Access your Accounts and your CDs & TDs details
Check your Credit & Debit Cards details & view the Credit Card available balance, due amount, due date, etc…
Monitor your Loan details including type, currency, amount, loan maturity, installment amount, etc...
View your overdraft account details with the amount, status, etc…
Display and export transactions (with statistical charts), and filter transaction history with date range or/and transactions type
Easy Funds Transfers
Enjoy easy funds transfers with fast transaction authentication
Transfer funds between your own local currency or foreign currencies accounts or from your foreign currency to local currency account (EGP)
Transfer funds to any other account inside or outside ALEXBANK in Egypt in Egyptian Pounds with a touch of a button through the O-Key link
Transfer funds to any electronic wallet in Egypt
Settle your credit card dues
Schedule and/or save any fund transfer requests to be executed at a later time
* Daily & monthly transfer limits are EGP 500,000 & EGP 3,000,000 respectively or equivalent in foreign currencies
Instant & secure Deposits booking
Book your Certificate of Deposit or Time Deposit online instantly through the Mobile Banking application or the Internet Banking without the need to visit the branch in few simple steps
Select "Certificate of Deposits" or "Time Deposit" from "Deposits Booking" menu then choose the type of the CD/TD you want
Review the selected CD/TD details, then click on "Book it Now"
Enter the required amount and interest payment frequency, then click on "Proceed"
Review the request details and accept the "Terms & Conditions", then click on "Proceed"
You will get confirmation message that the CD/TD has been booked successfully
Fawry Services
Pay your bills & enjoy a host of other services which include:
Telecommunications and Internet Payments
Utilities Payments (i.e. Electricity, Water, Gas, etc…)
Donation Payments
Tuition Fees Payments
Travel Payments
Insurance Payments
Fawry Pay
Online Payments
Discover what more is possible
Share your account details and IBAN via WhatsApp, SMS or e-mail to receive transfers
Create your favorite beneficiaries list to facilitate the daily payments
Locate your nearest ALEXBANK Branch or ATM across the country
View the latest FX rates and convert multiple currencies with our Currency Calculator
Customize display of accounts, deposits, cards and credit facilities
Change transfer limits (decrease only)
O-Key Application
Transact faster, safer and more seamlessly with ALEXBANK's O-Key for Mobile and Internet Banking...Transfer money and pay all your bills.
Download Now : Android - iOS - Huawei AppGallery
FAQs
What types of devices are compatible with ALEXBANK Mobile Banking application?
The application is compatible with the following smart phone devices' operating systems:
Apple iOS 9.0 and higher - Android 4.2, 5.0 and higher.
Who can sign up for ALEXBANK Mobile Banking service?
ALEXBANK Mobile Banking application is only available for Individual Customers.
In which language is ALEXBANK Mobile Banking Application available?
For your convenience, the application is available in English and Arabic.
Who can register in the Mobile & Internet Banking service online through the website?
Individual customers starting from 16 years old, who opened their bank accounts starting October 2017 and did not register to the Mobile & Internet Banking Services before. Also, customers who cancelled the service before will be able to register again online through the website.
What is the user ID?
It is the CIF (customer number that consists of 9 digits) the first nine digits of your account number.
What is the difference between the activation code and the initial login PIN?
The activation code is the 16-digit code you receive via SMS and it is required for the activation of the mobile banking application only and should be used at the initial setup.
The initial login PIN is an 8-digit code and it is used for one time only at first time login and then you should create a new password of your choice.
What's the password criteria?
Password must be from 8 to 12 characters in length. It must be alphanumeric and contains at least 1 capital letter, a number and a special character. You cannot use Arabic letters in the password
What if I forget my password?
To get a new password, please contact the Call Center on 19044 or visit the nearest branch.
Could I book a CD or TD through the Mobile Banking app or Internet Banking from a saving account?
Certificate of Deposits and Time Deposits can only be booked from a current account whether through the branch or through the Mobile Banking app and the Internet Banking.
When booking a Certificate of Deposit or Time Deposit online through the Mobile Banking app or Internet banking, could the interest be credited to a different account apart from the debiting account?
The debiting and crediting account should be the same in case of booking the Certificate of Deposit or the Time Deposit through the Mobile Banking app or Internet Banking.
What should I do if my mobile device is lost or stolen?
Please contact the Call Center on 19044 or +202 19044 from abroad to deactivate Mobile Banking service temporarily.
What shall I do if my user profile gets locked out?
Please contact the Call Center to unlock your user on 19044 or +202 19044 from abroad.
Is ALEXBANK Mobile Banking Application secure?
You can only access the service using your user ID and password, we are using strong password criteria in addition to advanced encryption technology to help prevent unauthorized access to your accounts and our privacy policy guarantees the protection of your financial information. Also, session time out is enabled and the application will automatically log itself out after 5 minutes from being inactive.
What is the O-Key link feature?
The O-Key is used to generate a One Time Password (OTP) to authorize your online banking transactions. For your security, each generated OTP is used once and is only valid for a short period of time.
With the O-Key link feature you do not have to open the O-KEY application to get the PIN. Simply, you will have your O-KEY embedded into your Mobile banking application through a link that appears on every transfer for faster transaction authentication.
How to reactivate the Mobile banking application?
If you are already a registered user, you can get the activation code instantly via SMS by clicking on "Have you registered before?" on the mobile application, then login using your User ID, Password and Activation code, or you can call the contact center on 19044.
What's the IBAN?
It's the international bank account number. It's the gateway for more efficient transfers and will be used for all transfers to and from other banks. You will find your IBAN in "account information" section in mobile and internet banking and you can also easily share it via SMS, e-mail or WhatsApp to receive transfers
How can I transfer to a wallet from my account?
You can transfer funds from your account to any wallet in Egypt through the mobile banking application. To transfer to a wallet, follow the same process for the external transfers by selecting the option transfer to "other account", enter the wallet mobile number in "Account Number" field and when selecting the bank name choose "Meeza Network"
Could I activate the "One Time Password" feature upon transferring between my accounts in ALEXBANK?
Yes, you could activate it through the Mobile banking app or the Internet banking from the "Settings" then choose "Sign-in & Security" and turn "Easy transfer off".