Mobile Application & Internet Banking
Take ALEXBANK with you anywhere you go with our New Mobile Banking Application
ALEXBANK has never been closer…
Access your ALEXBANK accounts easily and monitor your transactions instantly wherever you are inside or outside the country through your Mobile Banking application (for iOS and Android users) or Internet Banking in both Arabic and English, and you can also instantly and securely book your Certificate of Deposit or Time Deposit online without the need to visit the branch.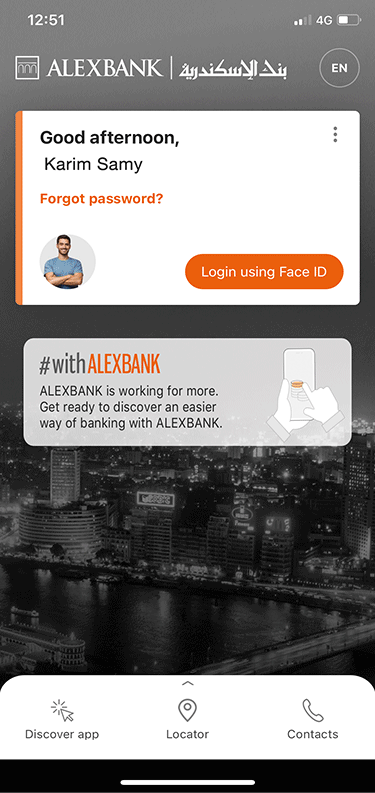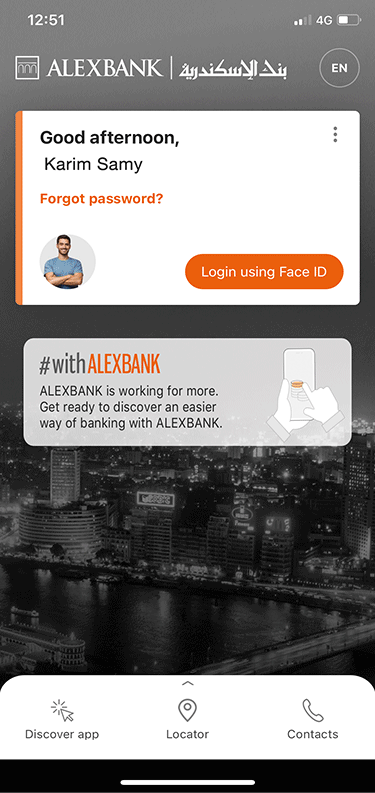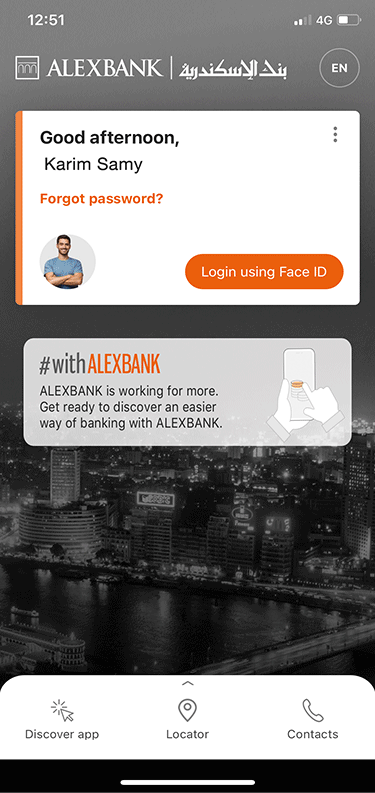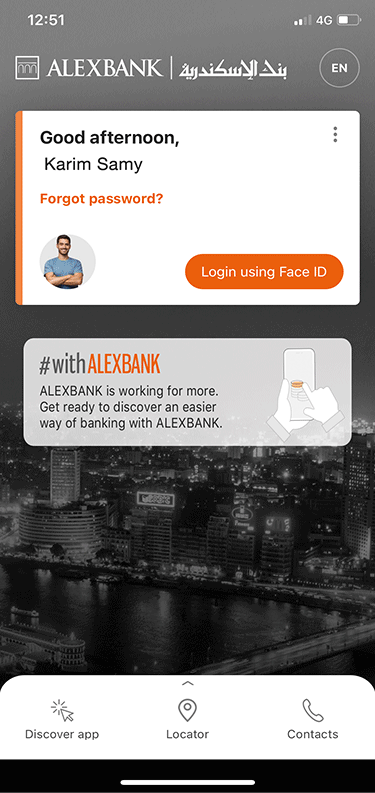 Register online & login easily to your Mobile Banking application with Fingerprint/Touch ID or Face ID* (for iOS users only)

Instant & secure Booking of Deposits through the Mobile Banking application or internet banking without having to visit the branch

Easy transfers to your accounts or other accounts with the O-Key link, bill payments & transfers to any electronic wallet in Egypt
Self-reactivation of your Mobile or O-KEY application through the application without the need to call the Contact Center

Monitor your products & transactions
Everything you need to know in one place
Access your Accounts and your CDs & TDs details
Check your Credit & Debit Cards details & view the Credit Card available balance, due amount, due date, etc…
Monitor your Loan details including type, currency, amount, loan maturity, installment amount, etc...
View your overdraft account details with the amount, status, etc…
Display and export transactions (with statistical charts), and filter transaction history with date range or/and transactions type
Easy Funds Transfers
Enjoy easy funds transfers with fast transaction authentication
Transfer funds between your own local currency or foreign currencies accounts or from your foreign currency to local currency account (EGP)
Transfer funds to any other account inside or outside ALEXBANK in Egypt in Egyptian Pounds with a touch of a button through the O-Key link
Transfer funds to any electronic wallet in Egypt
Settle your credit card dues
Schedule and/or save any fund transfer requests to be executed at a later time
* Daily & monthly transfer limits are EGP 500,000 & EGP 3,000,000 respectively or equivalent in foreign currencies
Instant & secure Deposits booking
Book your Certificate of Deposit or Time Deposit online instantly through the Mobile Banking application or the Internet Banking without the need to visit the branch in few simple steps
Select "Certificate of Deposits" or "Time Deposit" from "Deposits Booking" menu then choose the type of the CD/TD you want
Review the selected CD/TD details, then click on "Book it Now"
Enter the required amount and interest payment frequency, then click on "Proceed"
Review the request details and accept the "Terms & Conditions", then click on "Proceed"
You will get confirmation message that the CD/TD has been booked successfully
Fawry Services
Pay your bills & enjoy a host of other services which include:
Telecommunications and Internet Payments
Utilities Payments (i.e. Electricity, Water, Gas, etc…)
Donation Payments
Tuition Fees Payments
Travel Payments
Insurance Payments
Fawry Pay
Online Payments
Discover what more is possible
Share your account details and IBAN via WhatsApp, SMS or e-mail to receive transfers
Create your favorite beneficiaries list to facilitate the daily payments
Locate your nearest ALEXBANK Branch or ATM across the country
View the latest FX rates and convert multiple currencies with our Currency Calculator
Customize display of accounts, deposits, cards and credit facilities
Change transfer limits (decrease only)
O-Key Application
Transact faster, safer and more seamlessly with ALEXBANK's O-Key for Mobile and Internet Banking...Transfer money and pay all your bills.
Download Now : Android - iOS - Huawei AppGallery